Back to League Index» Scroll down or click here for: High Scorers | Players Averages
| | | | | | |
| --- | --- | --- | --- | --- | --- |
| Tough Customers | 1100 | 2 | We're Going Home | 10 | 1190 |
| Young Tigers | 1085 | 0 | Team Aeriel | 12 | 1171 |
| X-Men | 1070 | 4 | DougLess One | 8 | 1139 |
| Mac Too | 1130 | 8 | The Late Shows | 4 | 1023 |
| The Kings | P | | Hit & Miss | P | |
| Easybowl | 1120 | 2 | Pin Pals | 10 | 1190 |
| Hot Chris Bunz | 1017 | 0 | Brothers Grimm | 12 | 1132 |
| Split Happens | 1176 | 9 | Lightning Strikes | 3 | 1115 |
| | | | | | |
| | | | | | |
League Table
Team

Played

Points

Pinfall

High Scores

Game

Series

Won
Lost

Total

Avge

Scratch

Hcap

Scratch

Hcap

1
Team Aeriel
27
198
126

31,036
383.2
387
455
1060

1,264
2
Lightning Strikes
27
189
135

30,523
376.8
363
466
990

1,281
3
Easybowl
27
186
138

30,527
376.9
364
447
984
1,274
4
Brothers Grimm
27
185
139

31,041
383.2
378
460
1029
1,265
5
The Kings
26
172
140

29,497
378.2
358
438
1016
1,256
6
Tough Customers
27
172
152

29,921
369.4
354
456
958
1,264
7
Young Tigers
27
168
156

30,577
377.5
411
503
1093

1,369
8
Pin Pals
27
165
159

30,133
372.0
356
472
977

1,325
9
Hit & Miss
26
161
151

29,051
372.4
375
461
990

1,242
10
The Late Shows
27
160
164

29,901
369.1
362
461
974
1,258
11
DougLess One
27
152
172

29,319
362.0
387
455
1013
1,250
12
X-Men
27
151
173

29,626
365.8
379
452
954
1,195
13
Split Happens
27
137
187

29,883
368.9
363
457
1019

1,286
14
Hot Chris Bunz
27
136
188

29,872
368.8
385
463
980
1,220
15
Mac Too
27
126
186

28,777
355.3
412
502
1035
1,254
16
We're Going Home
27
118
206

29,364
362.5
319
429
872
1,223
No change....
There were no changes for the top six teams tonight but Team Aeriel extend their lead over Lightning Strikes to nine points. Lightning Strikes and Easybowl both lost and so the gap between them and Brothers Grimm in fourth is down to three points and one point.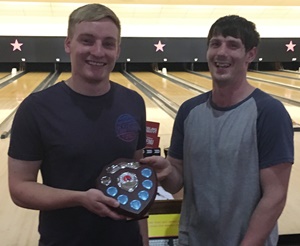 Only Eric Parmintuan reached 500 tonight (516, 600 with handicap) There were no 200 games but Eric also had the joint best game, 187, 215 with Steve Emmony 187, 216. Lesley Wright's run of good form continues and she had another new high series, 17 higher at 471 (642 - the best of the night) and a new high game, +2 to 177 (234, also the best handicap score)


The average scratch game this week was 139.8 and the league to date average remained at 140.5

Right, The Kings, Karl King and Cameron Rogers - First winners of the annual High Rollers team knockout competition.


Top of page»
High Scorers this week
Game
Series
Scratch
Handicap
Scratch
Handicap
Individual
Eric Pamintuan
187
Lesley Wright
234
Eric Pamintuan
516
Lesley Wright
642
Steve Emmony
187
Tom Cummins
218
Steve Emmony
498
Berenice Davies
609
Lesley Wright
177
Steve Emmony
216
Lesley Wright
471
Eric Pamintuan
600
Mick Freeborn
172
Eric Pamintuan
215
Terry Highton
466
Tom Cummins
590
Tom Cummins
168
Berenice Davies
215
Mark Daguio
463
Terry Highton
586
Team
Team Aeriel
343
We're Going Hom
425
Team Aeriel
979
Pin Pals
1,190
X-Men
334
Pin Pals
422
Brothers Grimm
913
We're Going Hom
1,190
Brothers Grimm
331
X-Men
417
DougLess One
902
Split Happens
1,176
DougLess One
324
Split Happens
411
Easybowl
877
Team Aeriel
1,171
Easybowl
313
Mac Too
410
Pin Pals
851
DougLess One
1,139
High Scorers - League to date
Game
Series
Scratch
Handicap
Scratch
Handicap
Individual
Jo Lea
245
Jo Lea
294
John Bryer
617
Jo Lea
747
John Bryer
244
Bunz Hughes
277
Jo Lea
600
Tom Cummins
707
Bunz Hughes
237
John Bryer
270
Eric Pamintuan
589
John Bryer
695
Eric Pamintuan
231
Chris Johnson
269
Steve Emmony
585
Doug Main
688
Chris Johnson
231
Tom Cummins
269
Steve Bates
579
Eric Pamintuan
676
Team
Mac Too
412
Young Tigers
503
Young Tigers
1093
Young Tigers
1369
Young Tigers
411
Mac Too
502
Team Aeriel
1060
Pin Pals
1325
Team Aeriel
387
Pin Pals
472
Mac Too
1035
Split Happens
1286
DougLess One
387
Lightning Strikes
466
Brothers Grimm
1029
Lightning Strikes
1281
Hot Chris Bunz
385
Hot Chris Bunz
463
Split Happens
1019
Easybowl
1274
Top of page»
Players Averages
Player
No. Games
Total Pins
Avge
H'cap
High Scores
Game
Series
Scratch
Hcap
Scratch
Hcap
1
Steve Bates
3
579
193.0
6
206
212
579
597
2
John Bryer
54
9422
174.5
20
244
270
617
695
3
John Crook
6
997
166.2
26
178
206
508
592
4
Eric Pamintuan
72
11778
163.6
28
231
260
589
676
5
Karl King
78
12704
162.9
28
224
251
568
665
6
Steve Emmony
81
13062
161.3
30
219
250
585
675
7
Rich Lester
27
4349
161.1
30
226
254
547
634
8
Kev King
3
480
160.0
30
169
199
480
570
9
Lin Goodwin
3
464
154.7
35
163
198
464
569
10
Mark Daguio
81
12405
153.1
36
210
246
553
661
11
Chris Bown
6
909
151.5
37
182
222
469
589
12
Graham Lewis
6
906
151.0
37
181
218
453
564
13
Boycie
39
5875
150.6
38
203
226
511
626
14
Mick Punshon
51
7634
149.7
38
209
248
503
626
15
Darren Stell
18
2691
149.5
38
187
220
494
599
16
Terry Highton
81
12073
149.0
39
213
254
528
654
17
Luke O'Downie
15
2218
147.9
40
193
231
472
598
18
Chris Johnson
69
10114
146.6
41
231
269
508
624
19
Bunz Hughes
81
11852
146.3
41
237
277
509
632
20
Doug Main
75
10881
145.1
42
196
239
559
688
21
Mick Freeborn
81
11748
145.0
42
203
242
488
611
22
Nicola Rye Hollan
78
11312
145.0
42
222
267
522
650
23
Paul Hurst
81
11740
144.9
42
224
257
509
606
24
Keith MacFarlane
78
11266
144.4
42
213
252
534
657
25
Bryan Davies
72
10384
144.2
42
209
253
516
648
26
Matt Costall
51
7343
144.0
43
197
241
488
620
27
Danny Gunn
66
9491
143.8
43
191
235
513
651
28
Lew Ashenden
9
1292
143.6
43
186
238
461
617
29
Gareth Gillard
3
428
142.7
43
168
211
428
557
30
Terry Emmony
78
11074
142.0
44
200
246
528
666
31
Simon Goodwin
42
5954
141.8
44
193
240
492
635
32
Jo Lea
54
7490
138.7
46
245
294
600
747
33
Paula Main
6
832
138.7
46
172
223
436
589
34
Dave Ingram
78
10779
138.2
47
198
246
502
646
35
Adam Holland
15
2069
137.9
47
182
227
425
560
36
Cameron Rogers
75
10312
137.5
47
185
236
495
642
37
Chris Watson
6
824
137.3
47
175
210
463
568
38
Sean MacFarlane
3
411
137.0
48
162
210
411
555
39
Diane MacFarlane
9
1223
135.9
49
164
228
473
665
40
Tom Cummins
81
10938
135.0
49
213
269
542
707
41
Ethan Taylor
3
402
134.0
50
158
208
402
552
42
Christopher Ana
9
1204
133.8
50
163
217
433
595
43
Mick King
72
9576
133.0
51
199
250
456
609
44
Martin Lapidge
3
399
133.0
51
139
190
399
552
45
Paul Simmons
45
5892
130.9
52
179
231
497
650
46
David Kroonenbur
15
1952
130.1
53
200
257
505
676
47
Andy Wilkins
9
1166
129.6
53
156
206
400
550
48
Lesley Wright
63
8126
129.0
54
177
232
471
636
49
Frank Russell
18
2283
126.8
55
170
228
442
616
50
Berenice Davies
81
10246
126.5
56
182
242
478
652
51
Anita Highton
81
10215
126.1
56
206
264
499
673
52
Roy
3
376
125.3
56
130
186
376
544
53
Paul Boston
81
10143
125.2
57
168
237
465
647
54
Liz Lake
51
6089
119.4
61
170
234
449
641
55
Karen Davies
69
8151
118.1
62
159
221
412
592
56
James Mullarkey
57
6488
113.8
65
183
250
450
651
57
Barbara Lewis
3
338
112.7
66
123
189
338
536
58
Neale Millett
42
4414
105.1
72
135
209
391
613
59
Patrick Daguio
3
301
100.3
75
103
178
301
526
60
Jez Wilkinson
3
272
90.7
75
98
173
272
497
61
Lisa Bungart
24
1991
83.0
75
126
201
342
567
<![if supportMisalignedColumns]> <![endif]>
Top of page»