In a top of the table clash, Lightning Strikes in second place found lots of form to beat leaders Easybowl
12-0 and take over at the top of the table, four points clear. These two have opened up a gap to the rest - Team Aeriel are third, another 12 points behind.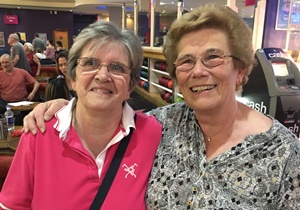 John Bryer was joined by Terry Highton this week as top scorer with 525 series. The stars of the week though were the Pin Pals with Anita having the best handicap series, 673 (499 scratch) which included the best handicap game 264 (206), and Berenice with the next best series 652 (465). Anita's series was 52 higher than her previous best and her game was 31 higher. Berenice's series was 16 higher.
Bryan Davies had a new high series, 22 higher at 516 (648) including a new high game, 20 higher at 209 - the best scratch game this week. His partner Frank Russel also had new highs: +33 to 442 (616) and +13 to 170 (228). Also with new high scores were Lesley Wright +17 to 439 (613) and +12 to 170 (228), Liz Lake +44 to 449 (641) and +25 to 170 (234), Paul Boston +7 to 465 (636) and +3 to 168 (225) and James Mullarkey, new highs for the second week, +47 to 450 (651) and +14 to 183 (250)
The average scratch game this week was 147.2 and the league to date average rose by 0.3 to 140.4