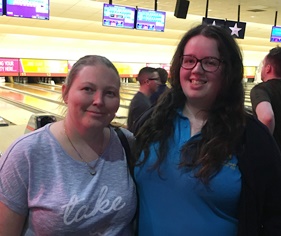 In her last week before moving to a new job in the north, Jo Lea produced a brilliant series to jump to the top of most of the league high score lists.
Jo hit the league's second 600 scratch series and her handicap series 747 beat the previous best, set only last week, by 40 pins. Jo also had the best scratch game of the season, 245 (294, also the best).
Team-mate Nicky also poroduced a good series and the Young Tigers now top all of the team high scores as well. Surely no-one will beat any of these scores in the remainder of the season?
Meanwhile, in the league, Easybowl continue their march to the title with a 12-0 win over Dougless One and they now have an eleven point gap to Team Aeriel in second and 17 points to new third place Lightning Strikes. Brothers Grimm drop to fourth just three points further back.
Some season high games this week: Mick Punshon and Eric Parmintuan both scored 209 (248 and 239 with handicap respectively) and Berenice Davies improved her high score by 28 to 182 (242)
The average scratch game this week was 142.8 and the league to date average rose by 0.2 to 139.7