Easybowl become the fifth team to top the table after beating a depleted Tough Customers 10-2. They go above last weeks leaders Brothers Grimm who won 8-4 but points differences are so small that the Bros drop to third.Hit and Miss also won 10-2 and move up a place to second. Still only four points between first and fourth.
Rich Lester, playing for Dougless One, was top scorer with 541 (634 with handicap) and John Bryer had the best game, 197 (218).
Terry Emmony beat Steve for once and had new high scores: +26 to 505 (649 - the best this week) and +15 to 188 (236). Tom Cummins had another new personal best game; +15 to 181 (238, the best handicap game this week) and also improved his high series by another 17 to 429 (600). Darren Stell (The Late Shows) raised his high game by 11 to 187 (220)

The average scratch game this week was 140.9 but the league to date average stayed at 139.5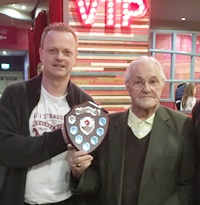 Before bowling started tonight the first winners of the Davies Shield, a team knockout competition sponsored by Mike Davies were presented with the shield and their prize money.

Easybowl (Danny Gunn and Mick Punshon), beat the X-Men (Paul Hurst and Mick Freeborn) in the final played on 20 February.