Current League: Scratch League | Schedule | Home page Scroll down or click here for: High Scorers | Players Averages
| | | | | | |
| --- | --- | --- | --- | --- | --- |
| Pin Pals | 999 | 0 | The Kings | 12 | 1229 |
| Whit's End | 1111 | 4 | X-Men | 8 | 1230 |
| Glitter Girls | 1116 | 2 | Ladies Who Bowl | 10 | 1199 |
| Hollywood | 1171 | 10 | Lightning Strikes | 2 | 1124 |
| The Sopranos | 1135 | 10 | Mac Too | 2 | 1112 |
| Hot Chris Bunz | 1107 | 2 | Brothers Grimm | 10 | 1117 |
| Easybowl | PP | | Hit & Miss | PP | |
| | | | | | |
| | | | | | |
| | | | | | |
League Table
Team

Played

Points

Pinfall

High Scores

Game

Series

Won
Lost

Total

Avge

Scratch

Hcap

Scratch

Hcap

1
The Sopranos
17
133
71

19,435
381.1
371
477
956
1,223
2
X-Men
17
125
79

19,263
377.7
376
460
948
1,221
3
Hot Chris Bunz
17
124
80

19,147
375.4
354
444
997
1,267
4
Easybowl
16
118
74

18,272
380.7
352
451
969
1,266
5
Lightning Strikes
17
112
92

19,163
375.7
358
445
921
1,179
6
Brothers Grimm
17
109
95

19,164
375.8
372
450
988

1,216
7
The Kings
17
103
101

19,087
374.3
394
479
974
1,229
8
Whit's End
17
103
101

18,805
368.7
326
440
941

1,283
9
Mac Too
17
98
106

19,115
374.8
344
440
927
1,230
10
Hollywood
17
98
106

19,039
373.3
329
437
899

1,238
11
Glitter Girls
17
98
106

18,744
367.5
348
424
927
1,186
12
Ladies Who Bowl
17
93
111

18,584
364.4
336
439
890
1,199
13
Pin Pals
17
78
126

18,208
357.0
305
431
849

1,227
14
Hit & Miss
16
70
122

17,643
367.6
331
443
831

1,166
15
Great Balls of Fire
14
38
130

14,817
352.8
298
438
794
1,214
After another win, this week by 10-2 against Mac Too, the Sopranos move eight points clear at the top of the table from new second X-Men who took all the points from Pin Pals. Hot Chris Bunz had a very close match but slipped to a 2-10 loss to Brothers Grimm and drop a place to third.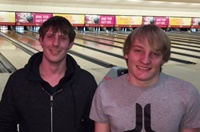 The Kings dominate the high score lists this week with Karl hitting a league best 253 game (683 with handicap) which included nine strikes and two spares. His 578 (683) series was a long way in front of the next highest. The Kings also top the high team score lists in all categories. Both Karl's and the team's scores are the best in the league so far.
Karen Davies had a new high series,12 higher at 420 (594) and Paul Hurst improved his high game by 22 with a clean game: 192 (242)


The league scratch average improved by another 0.3 to 135.7.
Top of page»
High Scorers this week
Game
Series
Scratch
Handicap
Scratch
Handicap
Individual
Karl King
253
Karl King
288
Karl King
578
Karl King
683
Paul Hurst
192

Paul Hurst

242

Paul Hurst

488

Paul Hurst

638
Steve Emmony
189
Merv Farrow
228
Gareth Gillard
476
Rose Barton
605
Merv Farrow
184
Rose Barton
228
Steve Emmony
471
Dana Goodwin
596
Rose Barton
183
Steve Emmony
221
Rose Barton
470
Karen Davies
594
Team
The Kings
394
The Kings
479
The Kings
974
The Kings
1229
X-Men
376
X-Men
460
X-Men
948
X-Men
1200
Ladies Who Bowl
336
Ladies Who Bowl
439
Brothers Grimm
892
Ladies Who Bowl
1199
Lightning Strikes
321
Hollywood
415
Ladies Who Bowl
890
Hollywood
1171
Brothers Grimm
321
The Sopranos
413
Lightning Strikes
872
The Sopranos
1135
High Scorers - League to date
Game
Series
Scratch
Handicap
Scratch
Handicap
Individual
Karl King
253
Karl King
288
Karl King
578
Karl King
683
Mick Freeborn
229
Mick Freeborn
271
Gareth Gillard
549
Terry Emmony
669
Steve Emmony
221
Ethan Taylor
267
Terry Emmony
534
Terry Highton
668
Terry Emmony
218
Terry Emmony
261
Steve Emmony
533
Paul Hurst
660
Ethan Taylor
217
Dave Lewin
257
Terry Highton
530
Dave Lewin
660
Team
The Kings
394
The Kings
479
Hot Chris Bunz
997
Whit's End
1283
X-Men
376
The Sopranos
477
Brothers Grimm
988
Hot Chris Bunz
1267
Brothers Grimm
372
X-Men
460
The Kings
974
Easybowl
1266
The Sopranos
371
Easybowl
451
Easybowl
969
Hollywood
1238
Lightning Strikes
358
Brothers Grimm
450
The Sopranos
956
Mac Too
1230
Top of page»
Players Averages
Player
No. Games
Total Pins
Avge
H'cap
High Scores
Game
Series
Scratch
Hcap
Scratch
Hcap
1
John Crook
6
1001
166.8
25
191
219
511
595
2
Steve Emmony
51
8077
158.4
32
221
254
533
632
3
Karl King
51
7997
156.8
33
253
288
578
683
4
Gareth Gillard
51
7972
156.3
33
203
236
549
654
5
Mick Freeborn
33
4859
147.2
40
229
271
492
618
6
Chris Woodward
48
7018
146.2
41
182
220
497
623
7
Chris Johnson
3
436
145.3
41
166
207
436
559
8
Graham Lewis
45
6538
145.3
42
191
231
489
615
9
Ethan Taylor
33
4789
145.1
42
217
267
496
640
10
Terry Highton
51
7329
143.7
43
199
248
530
668
11
Bryan Davies
39
5579
143.1
43
190
253
465
624
12
Nicola Rye-Hollan
51
7295
143.0
43
198
232
484
613
13
Merv Farrow
33
4716
142.9
43
185
237
507
654
14
Diane MacFarlane
39
5565
142.7
43
180
220
485
606
15
Terry Emmony
51
7277
142.7
43
218
261
534
669
16
Rose Barton
33
4679
141.8
44
185
235
472
622
17
Bunz Hughes
51
7151
140.2
45
195
247
500
644
18
Danny Gunn
48
6692
139.4
46
181
228
477
624
19
Barbara Lewis
51
7042
138.1
47
179
225
459
600
20
Paul Hurst
36
4927
136.9
48
192
242
504
660
21
Mick King
12
1640
136.7
48
177
228
462
615
22
Neil Austin
18
2445
135.8
49
178
233
488
612
23
Phil Highton
6
814
135.7
49
158
198
442
562
24
Keith MacFarlane
51
6912
135.5
49
193
249
496
655
25
Andy Whitfield
51
6909
135.5
49
177
229
476
629
26
Mick Punshon
48
6476
134.9
49
188
240
501
657
27
Cameron Rogers
51
6806
133.5
50
175
231
472
628
28
Paul Simmons
42
5604
133.4
50
183
234
446
602
29
Dave Lewin
42
5348
127.3
55
192
257
465
660
30
Karen Davies
39
4867
124.8
57
154
211
420
594
31
Frank Russell
3
372
124.0
57
129
186
372
543
32
Donna Smith
21
2581
122.9
58
161
222
384
575
33
Liz Lake
36
4401
122.3
59
159
219
425
605
34
Lesley Wright
30
3653
121.8
59
168
228
412
583
35
Anita Highton
51
6049
118.6
62
152
213
413
599
36
Alison Whitfield
51
6043
118.5
62
162
225
465
654
37
Berenice Davies
48
5628
117.3
63
162
226
441
633
38
Dana Goodwin
51
5544
108.7
69
157
232
390
610
39
Sally Lewin
36
3445
95.7
75
133
207
337
556
40
Ryan Jenkins
3
236
78.7
75
84
159
236
461
<![if supportMisalignedColumns]> <![endif]>
Top of page»