The top four teams all won tonight and their positions are unchanged although Easybowl, with a 12-0 win over Ladies Who Bowl close the gap on second place Sopranos to only three points. Glitter Girls, in fifth place last week, drop to seventh after losing 12-0 against Lightning Strikes. Sopranos edged a close match with Brothers Grimm with only a handful of pins deciding all of the games.
There were four scores over 500 this week, including a new scratch high for the league by Gareth Gillard, 549 (654 with handicap.) Terry Emmony was next best with 534 (669 - highest handcap series in the league.)
Gareth also had the best game of the night; 199 (234) but Mick Punshon had the best handicap game, 240 (188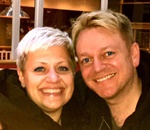 scratch)
Ethan Taylor hit a new high series, +6 to 496 (628). Danny Gunn improved his high game by 7 to 181 (228) and Paul Simmons improved by 8 to 183 (234). Alison Whitfield had a personal best series, +20 to 414 (606) and a new high game: 5 higher at 161 (225)






Graham Lewis converted a 6-7-10 split. Both Karen Davies and Ethan Taylor dealt with 5-10 splits.

The league scratch average rose by 0.7 to 134.8.