Return to Home Page»
News Archive
Summer 2015
Brothers Grimm make it 3 in a row! The Brothers won the short summer league with a week to spare and had a 10 point margin over Hot Chris Bunz in second place.
League Table»
Winter 2014/15
Lightning Strikes Win Again!
4/8/14 Brothers Grimm become the first team to retain the summer league title.
Table»
16/5/14 Winter League 2013/14
Duo snatch the league from Brothers Grimm who had been top of the table for the previous 25 weeks Table»
16/9/13 Brothers Grimm win the Summer 2013 league from Hot Chris Bunz and Duo.
Table»
15/4/13 Winter League 2012/13
Mac Too Win in Style!
League Table»
3/9/12 Duo win the 2012 Summer League for the fifth time by two points from Mac Too. League table»
28/5/12 X-Men (Paul Hurst, Merv Farrow and Mick Freeborn) won the Winter 2011/12 League in style with a final 12-0 win to top the league by 17 points.
League table»
19/9/11 The Turkeys came through strongly in the last two weeks to defeat their nearest rivals and take the Summer League 2011 by 10 clear points.
Final Table»
23/5/11 RTFB win the Winter 2010/2011 league by a big margin - 27 points clear of Brothers Grimm in second and Mac Too in third.
Final table»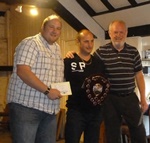 left, RTFB: Tony King and Gary Wileman with Terry Emmony
Click image to enlarge it
2/8/10 Brothers Grimm win the Summer League from I Can't Believe It's Not Gutter and Hit & Miss.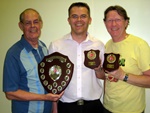 26/4/10 Lightning Strikes are the Champions! Terry and Phil Highton and Graham Lewis took the Winter 2009/10 title with ease in the end by beating the holders Dominoes on position night.


Click image to enlarge it





8/6/09 Dominoes regain League title. After leading the league for

most of the season, Dominoes clinched the title by beating the Turkeys - runners up for the third year in a row - on the final evening. The holders, Brothers Grimm, were in third place.
Final Table»
7/4/08 Monday Doubles League

After only 17 years of trying, Brothers Grimm won the Winter 2007/8 league by a big margin from Hit & Miss and Duo.
League Table»
12/2/07 Congratulations to Rose Barton who produced a wonderful 289 game

and came within a whisker of the Monday Night league's and the Hollywood Bowl's first perfect game.
Read more»
(scroll to Week 18)
Megabowl Closure
Update - 16/1/2006
Details»»